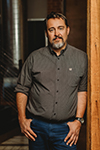 ▪ Principal Architect:

Lyle T. Murtha, AIA
Our Book
"Stateline No.7 Architects" a 168 page portfolio of projects and a "How-To" approach to design. To obtain a copy contact ART 321 in Casper, WY at 307-265-2655.
About the Firm

Stateline No. 7 Architects is composed of up to seven trained and dedicated professionals including two licensed principal architects, an interior designer, several design professionals, support staff and a rescued lab mix, Parker, whose focus is office morale. The firm is consciously organized horizontally rather than the traditional vertical hierarchy which allows the principals to be involved in all facets from programming and schematic design through project completion. This collaborative stratification and informal atmosphere enables us to engage clients and for design goals to remain in focus. The firms body of work is loaded with a diverse set of designs, each responsive to a particular set of conditions. The power of landscape, quality of light, and simple honesty of vernacular architecture influence the work.
The firm has gained respect and recognition for architecture that is sensitive to its environment and creatively integrated into its surroundings.  And despite working in a region lacking historic tax credit incentives, the firm has found a niche in repurposing existing buildings and leading by example.  A great respect is placed upon existing structures that are repurposed whether historic or not.  The existing building design is honored while adding the conveniences of modern technologies and re-integrating the structures into their contemporary context.  One of these repurposed structures, T Square, includes an historic run-down structure on a prominent corner of downtown Casper that now serves as the firm's offices, a loft space for the founding firm principal and a recently completed project to renovate additional space for a co-work office space in the difficult-to-rent basement.
Stateline Architects core values include a belief that architecture should respond to its particular place and be a natural partner with the environment.  Emphasis is placed on extending the design beyond the structure to carefully consider each project's place, not only the immediate site context, but the greater urban fabric and connectivity - well beyond the facade and/or property line.  When designing within the urban landscape, the firm brings a level of commitment and accountability to their work, reinforcing that design matters...and that people and place matter.  Integrating locally-sourced materials, regionally appropriate design, time-tested construction suitable to the region, and cultural resources in the form of intrinsic artwork, Stateline No. 7 Architects extends the traditional boundaries of ethicality and provides contextual structures that endure and enrich the human experience. 
The signature of our work – in contrast to the age of prefabrication and automation – invokes the craftsmanship of the everyday tradesman. Sustainability and energy conservation is achieved no-nonsensically and client involvement for the duration of the project is essential.  An unwavering emphasis on quality is mediated with a high degree of technical competence while immense pride in our work, professionalism, surprising uses of reclaimed materials, intergration of local artists, and an easy going manner guides our approach.
The firm is deeply engaged in the community and the architecture profession.  Firm culture actively encourages involvement of the staff in community architectural review committees, local boards, AIA Wyoming boards and committees, architectural speaking engagements, collaboration in architectural documentaries, hosting high school and other public tour groups, lectures, pro bono services, collaborating with higher educational entities for architectural research, participation in local community development forums and leading community charrettes.  The firm has sponsored three participants who have graduated from Leadership Casper program.  In addition, the firm principals and staff embrace continuing education and repeatedly attend numerous professional development programs to stay highly informed about recent developments within the architecture profession, ensuring well-rounded architects who are also effectual global citizens.
The firm is regularly recognized in the media for their work in redeveloping structures and designing developments within the urban core of cities and towns across the region, including two documentaries that air on the public learning channel, over 85 articles featuring their projects, and several publications including their own recently published book.  Stateline No. 7 Architects was awarded the Norman E. Nelson Preservation Achievement Award by the City of Rapid City, South Dakota, for historic preservation excellence in the rehabilitation of the 1886 Windsor Block Loft project, which marked the firm's first historic rehabilitation project.  The firm is also just one of seven recognized by the Wyoming State Historic Preservation Office as qualified for historic preservation consultation and collaborates continually with the Alliance for Historic Wyoming and the Wyoming Business Council's Main Street Program to promote urban core rehabilitation and preservation efforts around the state.