Knights of Columbus Remodel
The project consisted of a two-phased gut-and-remodel of the former Knights of Columbus bingo hall into three separate office/tenant spaces in the downtown historic district of Rapid City. Included was  the U.S. Census Bureau, which involved coordination and oversight by the regional inspector for plan review and approval along with the coordination of the utmost secure building requirements in terms of computer securities, building security, door hardware, and CCTV.  The remodel included a "face lift" to the 1950's exterior of the building with all new window and door openings and entry canopy to compliment the facility re-purposing. A new electrical service, HVAC and fire protection system were provided throughout. This is an example of a former client of Lyle's seeking his involvement despite the distance.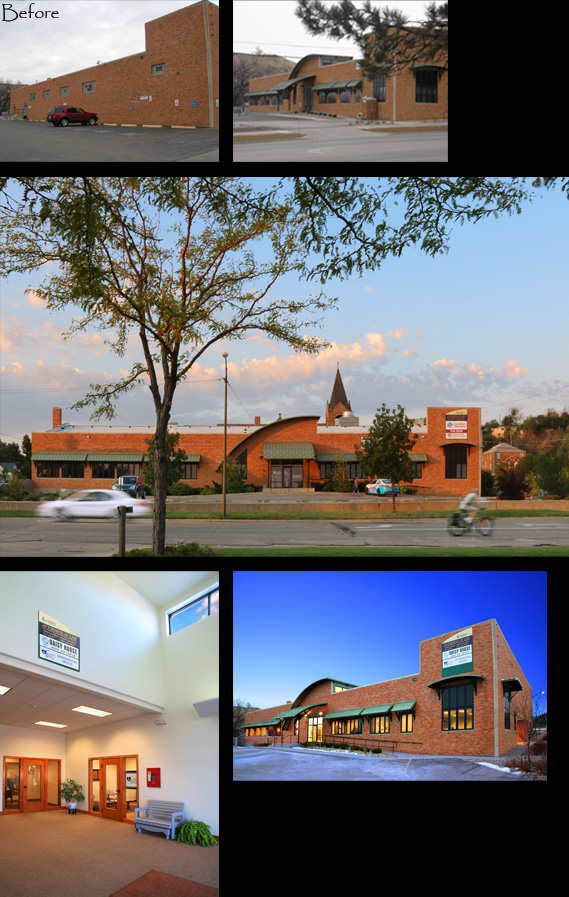 Location
Rapid City, South Dakota
Owner
Knights Properties, LLC
Steve McCarthy, Owner
605-716-9385
Contractor
MAC Construction Co., Inc.
Role
Architect of Record
Personnel
Lyle Murtha, Principal Architect
Scope
Repurposing
Design-Build
Size
14,000 Square Feet
Cost
$1.5 Million
Completed
2008